Hall of Fame
Welcome to the Pilning Hall of Fame, the section dedicated to you, the #PilningLegend, for your masterful efforts in taming the trains, running the rails, conquering the challenge.
Here to get your name in lights? Well, click on to let us know how you did!
Want to learn more about the Pilning Challenges? See more here!
Picture of the day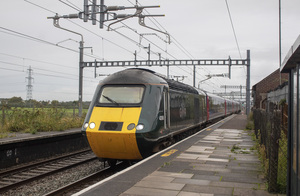 Today's picture of the day comes from Andy Thomas.
This picture was taken on 18/01/2020 whilst completing a Pilning Grand Slam.
Click to view full size.
Interesting numbers
Information from the challenges submitted to date. Successful challenges undertaken between Saturday 15th July 2017 and Saturday 14th March 2020.
To date, 88 great days out have been had by our #PilningLegends undertaking a Pilning Challenge!
Total distance travelled by Pilning Legends: 12,341mi 73ch. This breaks down into:
1,568mi 39ch travelled on Pilning Grand Slam (2017)
2,572mi 55ch travelled on Pilning Scramble (2018-19)
2,884mi 17ch travelled on Pilning Multiplex
328mi 74ch travelled on Pilning Terminator
1,194mi 5ch travelled on Pilning Pacerthon (2018-19)
706mi 4ch travelled on Pilning Equaliser (2019)
422mi 39ch travelled on Pilning Enigma
2,327mi 4ch travelled on Pilning Grand Slam
119mi 30ch travelled on Pilning Scramble
218mi 46ch travelled on Pilning Equaliser
That's the same distance as around 20.5 United Kingdoms (John O'Groats to Land's End), 2.1 single journeys on the Trans-Siberian Railway, 0.50 Equators, or 2,154,395 London Double-decker Buses!
The shortest distance between two stations in a single challenge was a mere 35 chains, whilst the furthest was an incredible 96mi 73ch.
In proof of a challenge progress, our Legends have submitted 824 photos to us for verification!
The Challenges
The most used traction unit (Multiplex and Pacerthon only) was 166214, used 18 times!
Breakdown of the challenges submitted to date:
Most and least used stations:
| Most Used | Times used | Least Used | Times used |
| --- | --- | --- | --- |
| Bristol Temple Meads | 103 | Dinas (Rhondda) | 1 |
| Filton Abbey Wood | 103 | Avonmouth | 1 |
| Cardiff Central | 70 | Energlyn & Churchill Park | 1 |
| Bristol Parkway | 64 | Barry | 1 |
| Newport (South Wales) | 47 | Sea Mills | 1 |
| Cardiff Queen Street | 35 | Wolverhampton | 1 |
| Bath Spa | 29 | Ty Glas | 1 |
| Severn Tunnel Junction | 27 | Severn Beach | 1 |
| Yatton | 26 | Gloucester | 1 |
| Nailsea & Backwell | 25 | Trefforest Estate | 1 |
As the crow flies, the stations furthest away from Pilning reached on a Challenge run were Wolverhampton (74.45mi), Marston Green (73.02mi) and Birmingham International (72.71mi).
Across all challenges, our Legends have visited a total of 89 different stations in search of glory!
The Challengers
Our challengers have collectively attained the following awards on their travels:
Pilning's Bravest Challenger award currently goes to Cragoolia, who comes top of the table having completed an astounding 22 challenges!
Pilning's Furthest Reacher award currently goes to Cragoolia,who covered a whopping 245 miles in a single challenge!
Pilning's Nimblest Racer award is given to Dhassell,who successfully visited an immense 21 stations in a single challenge.
Pilning's Outmost Wanderer award is firmly in the hands of Cragoolia,who visited the station furthest from Pilning (as the crow flies). This was Wolverhampton, an incredible 74.45 miles away!
Pilning's Come Back Soon! award goes to CoriniumTV as they have yet to complete more than one challenge. (please, please do come back soon and have another go!)