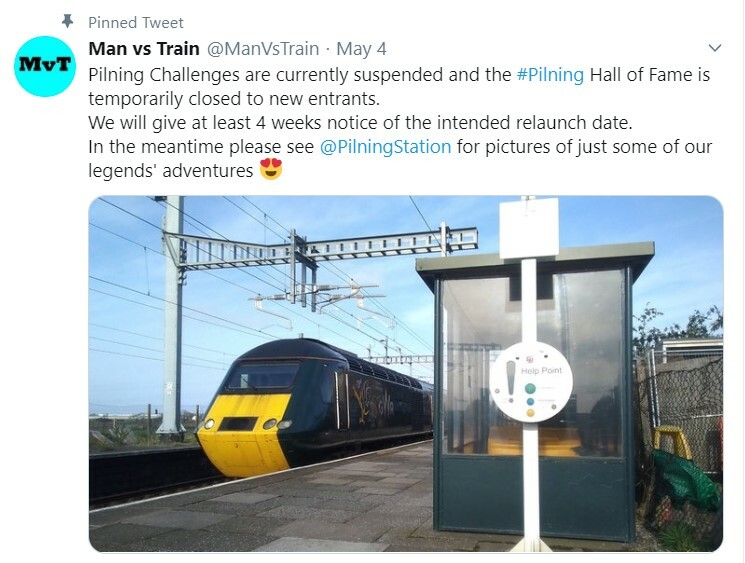 ---
Pilning Challenges were introduced in the summer of 2017 to help bring more passengers to the station, and to raise the profile of Pilning around the rail network.
The idea of a Pilning challenge is to start and finish your trip from Pilning using the only two services available. The person who completes a Challenge earns the rank of a #PilningLegend, and features in the Pilning Hall of Fame!
There are currently six different challenges ready and waiting to be tackled by you! Got an idea on a hyper-efficient way to get around the network, or just know where you can find a long alphabetical string of stations? Then it sounds like you'd better get down to Pilning and show us what you're made of! Read the rules:
Current Challenges
Pilning Enigma — The Chain Building Station Challenge
Pilning Equaliser — A Step-Free Adventure Around Bristol
Pilning Grand Slam — The Original Pilning Challenge
Pilning Multiplex — The Multiple Multiple Unit Challenge
Pilning Scramble — The Grand Alphabet Station Challenge
Pilning Terminator — The Ultimate Adventure Around South Wales
Historic and Suspended Challenges
The first Pilning Challenge was the Pilning Grand Slam (2017) — initially intended to be a nice calm trip travelling on the trains of a minimum of four Train Operating Companies between the two Pilning services (the afternoon service called at 13:34 in those days). Our Pilning Legends didn't like the idea of "calm" though, and very quickly the boundaries were pushed to extremes. The rules expanded into Bronze (the original), Silver (five TOCs) and Gold (six TOCs!). Since then, the Gold award has been exclusively reserved for those with nerves of steel!
Pilning Pacerthon — A Farewell Fling with Class 142s and 143s. Following the start of the inevitable retirement of these classes, the Pacerthon has now been suspended.
Have you completed a Challenge? Want to get your name in lights? Submit all the details on the Pilning Hall of Fame site to be officially recognised and to win your exclusive Pilning Challenge ticket! Get started here.