Update 16 March 2020: following the Government advice on avoiding unnecessary travel, this challenge has been postponed until further notice.
---
The information below concerns a special event that will run on three Saturdays in March 2020 – the 14th, 21st and 28th only. After these dates this journey might not be possible again until the completion of the imminent engineering works on the South Wales Main Line.
---
If you have read this page, but still have any questions, please fill out the contact form in the left. We'll get back to you as soon as we can!
Why Pilning?
On Monday the 9th of March St Peter's Primary School was given a presentation by Olga Taylor, Chair of Pilning Station Group. Olga talked about how few people are aware that there is such an interesting railway station on our doorstep. Pilning is very special indeed, being on a two-track electrified main line, with trains connecting two of Britain's capital cities (London and Cardiff) zooming past every half an hour, BUT it only has one platform and just two trains a week, both in the same direction.
Because Pilning is a one-direction station, it is easier to complete some journeys in a loop. When plotting one of these journeys on the map, we noticed that route resembled a shape of a familiar animal, and soon became known as the Rabbit Run.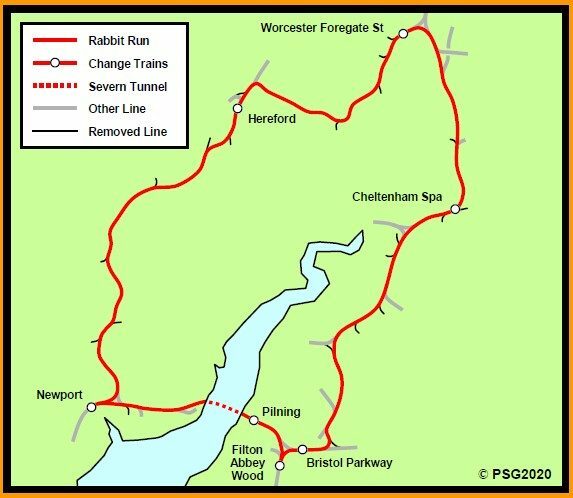 Pilning Station Group have been running a number of railway challenges since 2016, where people have to work out their own route. However, we would like to offer our local community a unique experience of completing a mini-challenge without the hard work of trawling through the time tables trying to find routes and connections. Take a relaxing (but still epic) train journey through Gloucestershire, Worcestershire, Herefordshire, and South Wales, trace the shape of a rabbit, but most importantly – enjoy the day with your friends and family.
During the day we will expect our young adventurers to gain confidence when using public transport, learn how to plan journeys, and familiarise themselves with stations and trains.
The station has been in the news quite a lot in recent years, as despite its service being cut to almost unusable levels, passenger numbers have grown by a staggering 900%. Do you want to find out why? Come with us, and we'll tell you 🙂
Ticketing
You will need a Pilning to Worcester Off-peak Day Return ticket for each traveller over the age of 5 (children under 5 and teddy bears travel free). We strongly recommend that you purchase the tickets before arriving at the station, as there are no ticket purchasing facilities at Pilning. If there are any last minute additions to your party, you can purchase the extra tickets from the guard on the train.
Tickets can be purchased in advance from www.gwr.com, www.trainline.com or at any station's booking office.
The 2020 prices are:
Adult – £14.80, Child – £7.40
Various discounts are available to appropriate rail card holders.
For example, if you have a Family & Friends Rail Card (can be purchased in advance here), you will receive a discount as follows:
Adult + 1 Child – £12.55; Adult + 2 Children – £15.35; 2 Adults + 3 Children – £27.90, etc.
On the Day
Please arrive at the station in good time to allow for the 08:33 departure. Pilning station has ample car parking facilities, which are free. You will need your tickets, a camera, a pen and the Rabbit Run flyer, as it contains all the travel information that you will require. Weathered travellers tend to bring some refreshments too, although there will be a chance to get a snack during the hour's wait at Worcester.
Members of Pilning Station Group will meet and greet you at the station. At least one member of the Group will be undertaking the challenge on each of the advertised dates, and will be available either on the phone (the number will be given out on the day) or in person, should you require any assistance during your adventure.
Follow the time-table on the flyer, check the departure board at each station to find the platform number for your next train. Take photos – there will be an opportunity to share the pictures from your travels with your friends via this website. And remember to ALWAYS BE RAIL SAFE!
After the Adventure
Well done! You've successfully completed a round trip from one of Britain's most exclusive railway stations – not an easy feat!!
Now tell us about your day using the form below. Think of a good name for your team – it will be printed on the Certificate.
We hope that you had a lot of fun, but also learnt something about using public transport.
Disclaimers
Railways are a dynamic place, and sometimes things do not go quite according to plan. Trains may be cancelled, delayed, diverted or terminated short of their scheduled destination. And whilst Pilning Station Group will endeavour to keep you up-to-date should any service alterations affect your Rabbit Run, we cannot be held responsible for anything outside our control.
It is important that you keep hold of your ticket, as it will guarantee your return to Pilning in case of an unexpected event.